We can manage and provide all
your needs. Farm Fresh produce is
only a phone call away!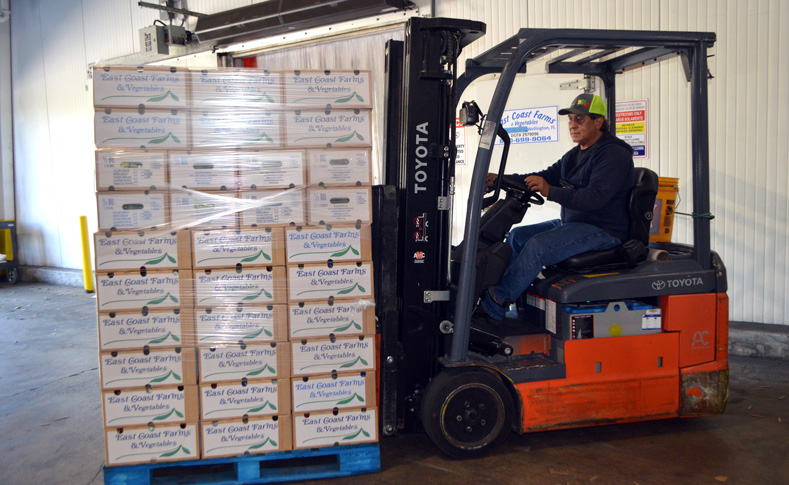 38,000 square ft facility
We can meet any refrigeration need
Our facility is third-party PRIMUS Food Safety certified (98% rating). We have multiple termperature controlled coolers to meet any refrigeration need.
Food safety policies and procedures are our highest priority. We do this to ensure that our product is always the finest, freshest, and superior in quality.
Our standards of operations and procedures follow internationally accepted best practices and food safety, environmental awareness, and sustainability. Additionally, we ensure that all of our growing partners are 3rd party audited for food safety, and that they exceed federal, state, and local benchmarks for compliance.
Now offering 3PL services, we can manage all aspects of your supply chain needs:
Cold Storage (temperature controlled)
Dry Warehousing
Inventory Control and Inventory Management
QC Services and Inspections
Packing / Value Added Services
Order Picking
Inventory Forecasting
Packaging
Freight Forwarding
Cold Chain Transportation Services
With our own fleet of trucks we can provide delivery services to any location in the State of Florida. We have quick easy access to all points North, South, and Western routes of I-95, Florida's Turnpike, Alligator Alley, and Route 80.  
Trust your cold chain logistics to East Coast Farms. 
We are Committed to being a premier
supplier of all your produce needs
Need more information?
Get in touch
with us
Opening Hours:
M-F 9:00AM – 5:30PM
Phone: 1+561 286-0286
Email: eastcoastfarmsorders@gmail.com 
Address:  6796 Lantana Road
Lake Worth, FL 33467
Copyright East Coast Trading Import & Export. All rights reserved.